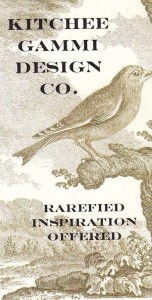 Hey!  You can follow us on Facebook!
Kitchee Gammi Design Co.     We really really want you to like us!
We'll post open studio night dates and occasional sale info.  What's an OPEN STUDIO NIGHT you ask?   Well a super fun time to be had by all!  We'll eat, drink, learn about design, figure out all your design dilemmas and toss out some rarefied inspiration like the business card promises.  What's an OCCASIONAL SALE you ask?  Well now and then a gal has to just head out around the corner or around the world and bring back some great treasures.  Once that gets done it's time for a party and a sale (and maybe some cake).  We'll let you know when we're ready to throw open the doors!